Travel guide to Rome
Here in this section you find a travel guide to Rome with facts and tips that can be of interest for those of you that have planned to go to Rome.
As a tourist in Rome you always find something that interest you. The city includes everything from stunning architecture and historical sights to cozy restaurants and modern places for the younger ones. For those who want to shop fashion Rome offers a wide selection and in the markets you findlfresh food and vegetables.
In this travelguide to Rome you will find advice on just about everything, from shopping, history and transportation to tips on restaurants and dinners, entertainment and temperatures.
This part of will be expanded as time permits. The idea is to make it a complete guide for those who intend to travel to Rome.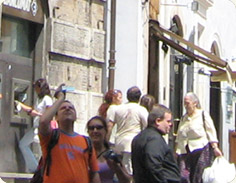 Lost Tourists in Rome that forgot to read this travel guide ..