Rome
If you travel to Rome , Italy's capital city, you can experience the beautiful cultural treasures and religious sights and attractions and feel the historical atmosphere.


On this website "Rome" I have created a Travel guide for everyone who wants to know more about Rome. If you never have visited The City of Rome I advice you to book you traveltickets immediately!

I fell in love in Rome when I travelled there on a weeks vacations many years ago and since that I have return many times as a tourist.

On this webbsite I have gathered information about attractions, sights, facts, history and maps in a travel guide to help you plan your visit to Rome. You find travel-tips and information, ranging from restaurants, shopping and entertainment to Italian Phrases, currency and much more. Hope you enjoy the website (and your trip to Rome).
Garibaldi is one of Italys and Rome's most beloved national heroe. He fought throughout his whole life for a united Italy. He was sentenced to death after a failed coup and forced was to live hes life in exile.

---
A huge dome and a nine-meter wide hole in the ceiling as the only natural light contributes to make Pantheon one of the more poular attractions that you really should visit when you travel to Rome.


In Colosseum, the famous arena, spectators could see the gladiators and animals fighting against each other for their lives. During the opening ceremony, which lasted one year, approximately 2,000 gladiators and over 9,000 animals were killed.

---
You should definitely not miss to visit the Romantic Fontana di Trevi in the evening. Take your sweetheart to the most famous fountain in the world.


Every road leads to Rome!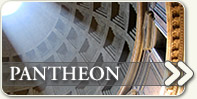 Pantheon is a remarkable construction. A perfectly shaped speher with a big hole in the roof!
Find out more about Pantheon »
News
I have added more interesting sights and attractions to read about before you visits Rome.

More attractions »
---
The Appian way is one of the most famous ancient roads to Rome.

The Appian way in Rome »
---
Piazza Navona is a big square in Rome that used to be an arena, Today its mainly a market square.

Piazza Navona »
---
Piazza Venezia with its great monument is one of the attractions in Rome that you shouldn't miss.

Rome attractions - Piazza Venezia »
In the Photo Gallery you will find lots of photos of Rome and the main sights and attractions. Everything fRome the Colosseum and St. Peter's Basilica to the bathhouse Caracalla and Piazza Navona.
Are you going to Rome , take a look in the travel guide. There you will find both interesting tourist information and lots of advices.